Baze and His Silly Friends: The Best Day Ever (CD review)
*Disclaimer: I was not compensated for this post. I received a complimentary CD for review purposes.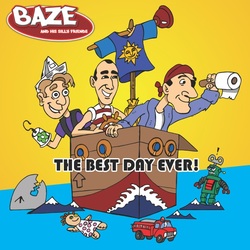 My little ones love music, especially albums that get them singing and dancing;Baze and His Silly Friends, The Best Day Ever did just that! MY 4 year old and almost 2 year old immediately started moving and grooving with the first track, "Poor Mother Goose" all the way through the last track, "Dah Day: The whole CD is filled with fun lyrics, great music and subjects all kids can truly relate too.
-SD
After garnering a Parents' Choice Award for their 2009 album, Toddlerville, New Jersey-based kindie rock band Baze and His Silly Friends decided to rev it up a notch by producing an all-star lineup of "Guest Silly Friends" on the band's third kids'/family CD, The Best Day Ever! (Doodle Hollow Records, $13.99, for ages 3 – 7, run time 29 minutes.)
Joining Baze and His Silly Friends are kindie music faves Lucky Diaz, Suzi Shelton, Kira Wiley, Yosi, and Dave Lambert (The Fuzzy Lemons), as well as Stacia Newcomb ("Star" on PBS KIDS Sprout's The Good Night Show), Andrew Freeman (The Offspring, Lynch Mob), and the legendary Tom "Bones" Malone, one of the original Saturday Night Live band members and an original Blues Brothers Band member, who currently plays trombone in the CBS Orchestra for The Late Show with David Letterman, as well as with almost everyone else in the music biz.