ClearPop Rapid Earache Relief + Giveaway
Disclaimer: I received this product for free from Moms Meet (momsmeet.com), May Media Group LLC, who received it directly from the manufacturer. As a Moms Meet blogger, I agree to use this product and post my honest opinion on my blog. The opinions posted are my own.
Earaches can be pretty painful and frustrating for the recipient and their caregiver. ClearPop Rapid Earache Relief pops is an immediate way to clear the ear and get relief. Children are more susceptible to earaches because their Eustachian tubes are shorter, straighter, and more horizontally positioned than adults which makes the  journey for bad bacteria easier which results in  frequent earaches.
My boys have definitely suffered from a few earaches and I can tell that they seem to be in excruciating pain BUT I wasn't able to offer them much relief from home because most of the time it was late and all doctor's offices were already closed and visiting the Emergency room was a last resort. Having the Clearpop Rapid Earache Relief pops in our medicine cabinet now is a lifesaver and I am now able to provide relief immediately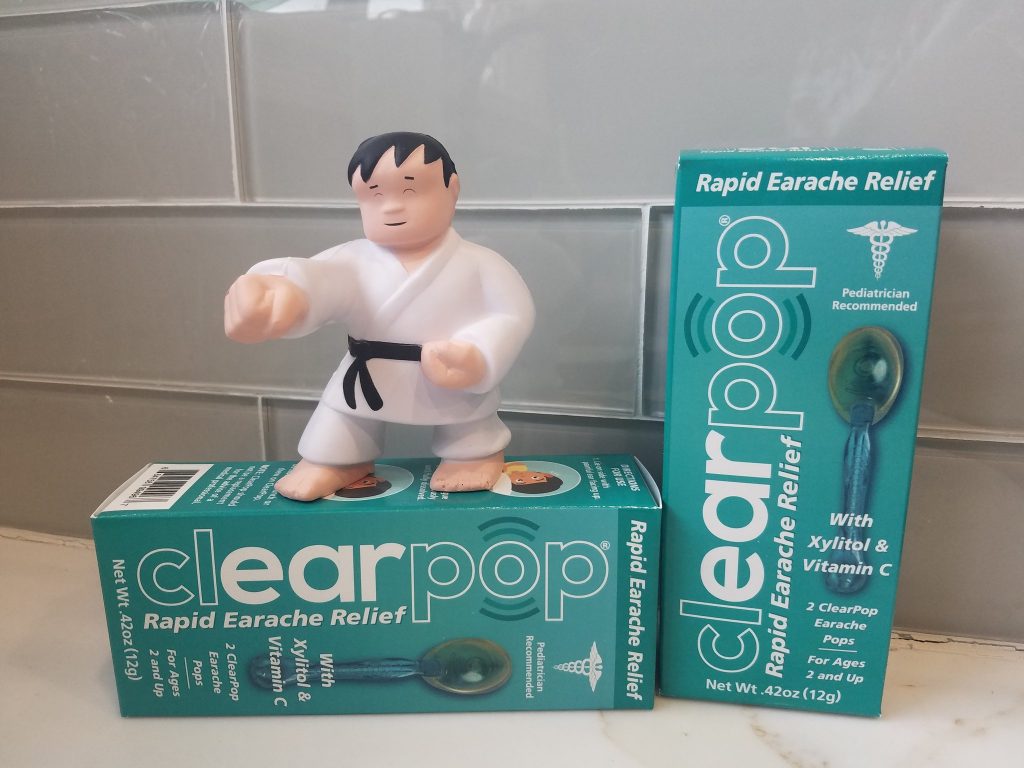 ClearPop Rapid Earache Relief Pops
uses a biomechanically designed shape similar to a lollipop to help the body clear fluid from the ear through the mouth, without medication.
conforms the oral cavity and is designed to maximize the negative pressure generated by the natural motion of the jaw as the child sucks on the pop. This negative pressure helps to drain the blockage into the mouth, leading to fast relief of the pain and pressure felt by the child.
In a Clinical Study ClearPop Rapid Earache Relief reduced the pain of the earache in 9 of 10 cases and eliminated it in 7 of 10 cases.
formulated with all-natural Xylitol, shown to reduce occurrence of Acute Ottis Media (AOM) by 25%
ingredients: isomalt, citric acid, ascorbic acid, Xylitol, water, and lemon oil. ClearPop Rapid Earache Relief does not contain any antibiotics or analgesics.
Lemon flavor tastes great and encourages saliva production which helps drain the Eustachian tube.
Safety Handle: ClearPop Rapid Earache Relief designers sought to eliminate possible choking risks by placing a hole in the plastic base where the consumable portion of the pop joins. This causes the head to stay connected to the stick until it is almost completely dissolved. The spoon-shaped base of the stick cannot be swallowed and the stick itself is shatterproof and flexible.
 safe to use with any other medication, including analgesics.
Retail Cost: $11.99 for the 2-Pack.
Enter to win your own package of Clearpop Rapid Earache Relief Pops by simply emailing contests@thirtymommy.com and tell me what you do when your little one(s) have earaches! (contest ends on 4/25)