LEAP Movie Screening in NYC
Disclaimer: I was not compensated for this post. All opinions are my own.
You are invited to a screening of the #LEAPMovie
Paris, 1884. A orphaned girl arrives in Paris from Brittany. Félicie Milliner (Fanning) is 11 and has no money but one big, passionate dream: to become a dancer. With nothing left to lose, Félicie takes a big risk: she 'borrows' a spoiled brat's identity and enters the Opera Ballet School. But how long can she be someone else? Mentored by the tough and mysterious cleaner, Odette (Jepsen), Félicie learns that talent is not enough – it takes hard work to be better than her ruthless, conniving fellow students. That and friendship. And when Félicie meets the inventive, exhausting and charismatic Victor she gets a soul mate. He also has a dream: becoming a famous inventor. Together, they both encourage each other to reach for the stars.
Directed by: Eric Summer and Éric Warin
Written by: Michael McCullers (based on the award-winning picture book by Marla Frazee)
Starring: Elle Fanning, Maddie Ziegler, Nat Wolff and Kate McKinnon with Carly Rae Jepsen & Mel Brooks
DATE: August 19, 2017
TIME: 11:00 am
LOCATION: Regal E-Walk Stadium 13 & RPX (247 W. 42nd st)
Arrive early as passes and seating are first come, first served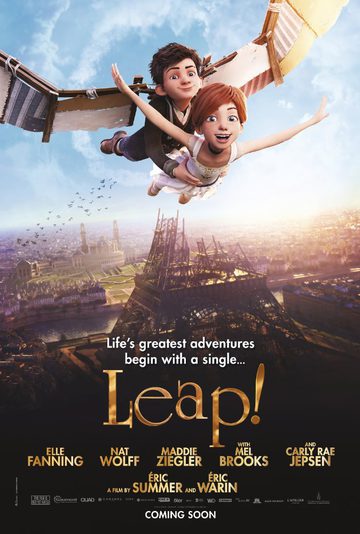 Get your passes here!