Beat Bugs Books, Toys & Holiday Special
Disclaimer: I was not compensated for this post. All opinions are my own.
The Beat Bugs animated series on Netflix has been a big hit in my house with my musically inclined children. My boys, ages 3, 6 & 8 all LOVE the show, especially the music!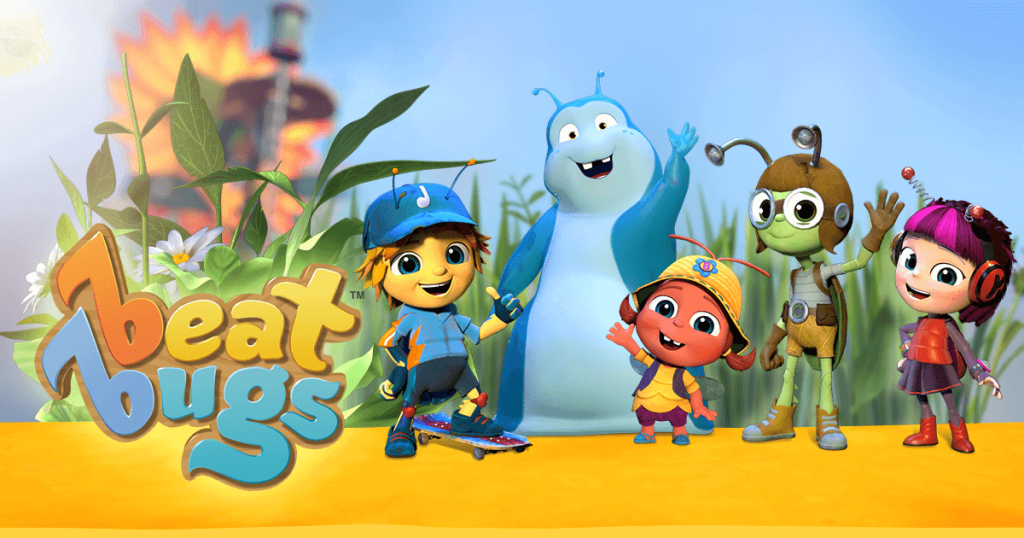 The Beat Bugs (Crick, Jay, Buzz, Kumi & Walter) are a band of best friends living in a backyard filled with musical adventures where they have to work as a team to get out of the mischief they get in to. Each episode ties in a song made famous by The Beatles in an innocent and child-friendly fashion, covered by one of the characters and guest stars that include mega-musicians P!nk, Sia, Aloe Blacc, Rod Stewart, Jennifer Hudson and more.  Beat Bugs introduces a new generation to the music of the most influential band in rock history, The Beatles.  www.BeatBugs.com
For the holidays, an ALL new Beat Bugs episode, ALL TOGETHER NOW, take the band on an adventure outside of their backyard home to perform in the bug world's biggest talent show, 'The Bug Factor'.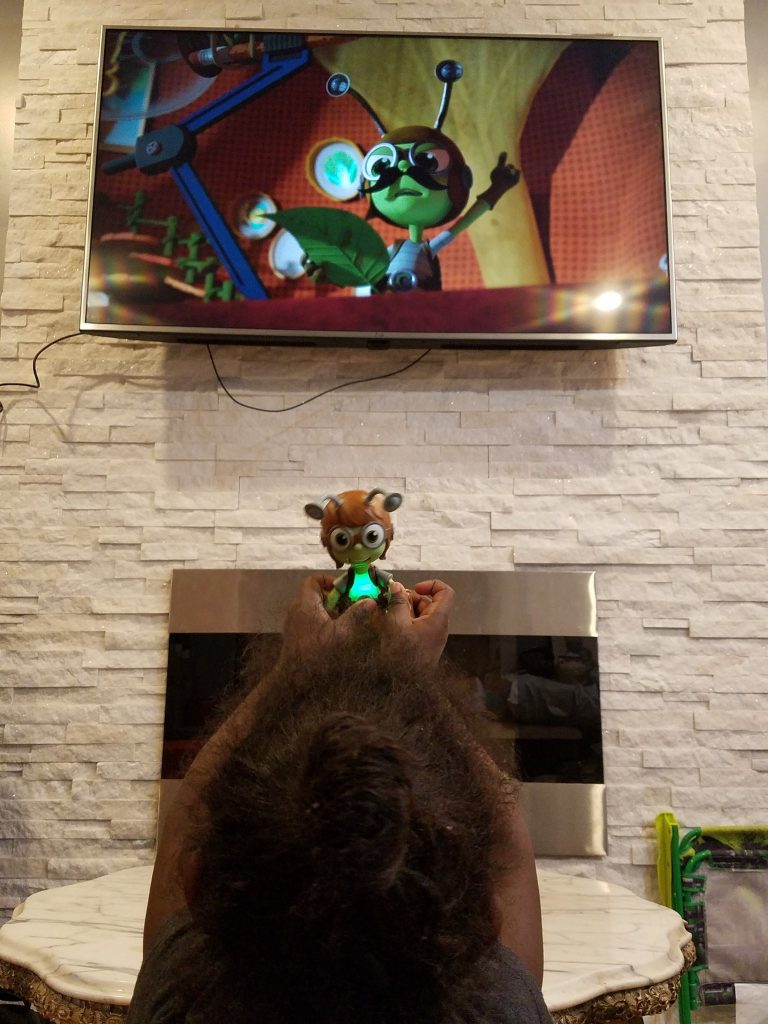 Along with the amazing shows, the Beat Bugs have a line of books, clothing, games and cool interactive toys like the Singing figures that interact with the show or the free app, Beat Bugs Alive. These books, toys and games would make the perfect gift for any budding musician or music lover in your life!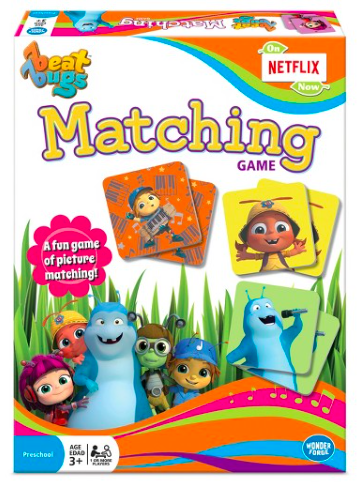 MSRP:  $9.99
Age Grade: 3+
A fun game of picture matching!  In this classic game of picture matching, flip over colorful tiles to reveal your favorite characters from Beat Bugs! Find pictures of Buzz, Walter, Crick, Jay, Kumi, and more! What adorable faces will you see? Pick up the most matching pairs to win!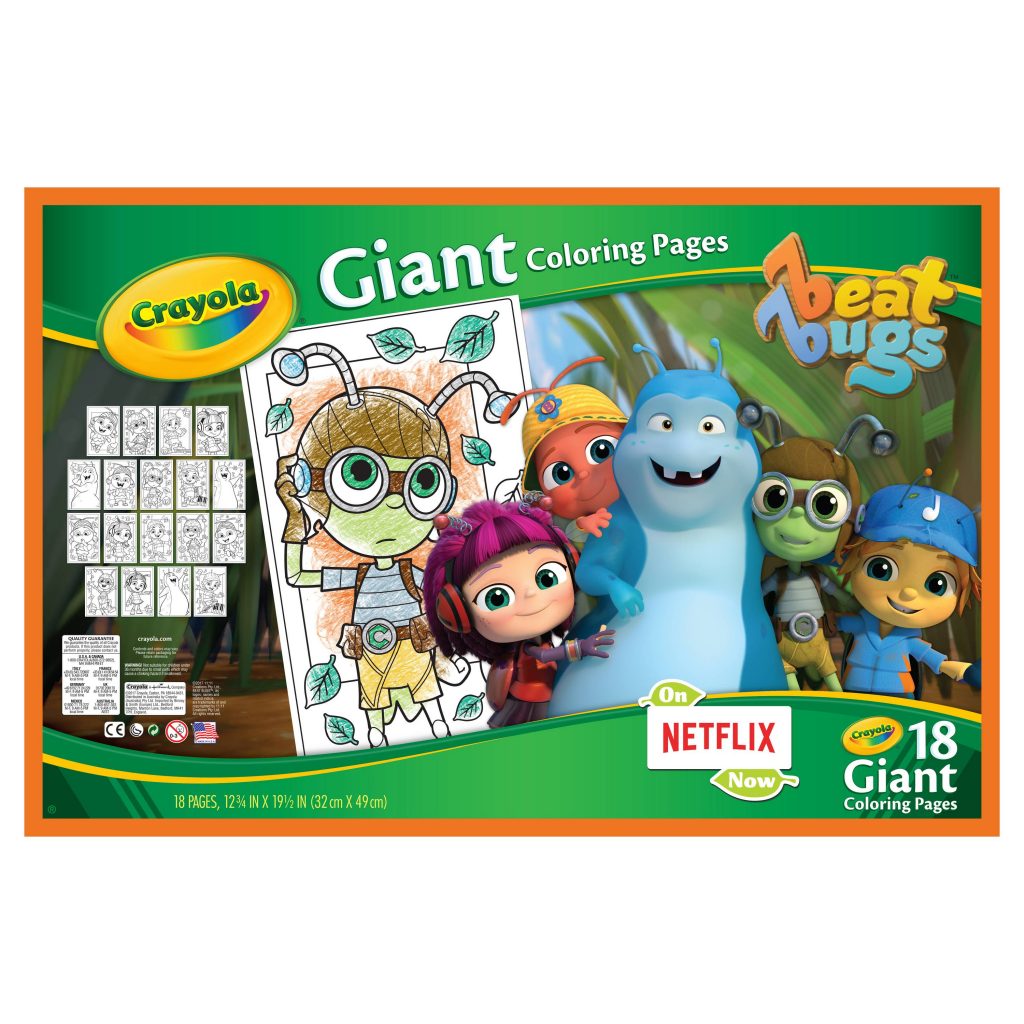 Beat BugsTM GIANT Coloring Pages
MSRP:  $4.99
Age Grade: 3+
Giant Coloring Pages provide hours of colorful fun! Oversized coloring pages include large, detailed images waiting to be filled in with the color choices. Proudly show off the finished work on walls or refrigerators; the giant size creates a colorful, eye-catching display. This pack includes 18 larger-than-life scenes of their favorite Beat Bugs characters.
Features:
18 different giant coloring pages
Large size (12 3/4" x 19 7/16")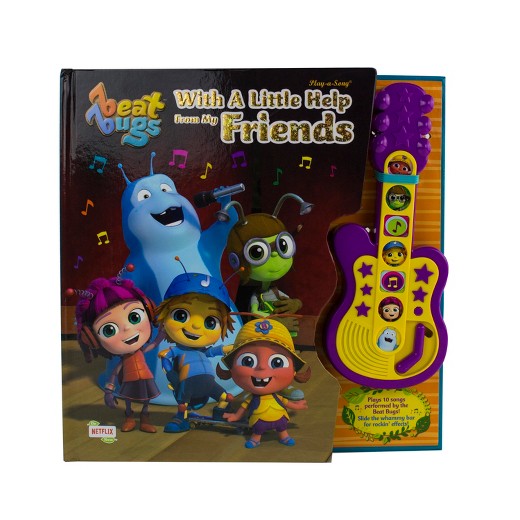 Guitar Mini Deluxe Beat Bugs: With A Little Help From My Friends
MSRP:  $15.99
Age Grade: 18 months+
Be a rock star! This 11'' x 11'' case-bound board book comes with a star-studded, two-color detachable guitar module. The guitar has five song buttons that feature Beat Bugs characters and play 10 songs made famous by the Beatles! You can even rock out while songs play by using the whammy bar and two sound buttons to add cool effects to the songs. Sing along with the lyrics printed in the book to build and support early reading and literacy skills. Songs include "With A Little Help From My Friends," "Ticket To Ride," "Hello Goodbye," and others. Kids will love learning through play!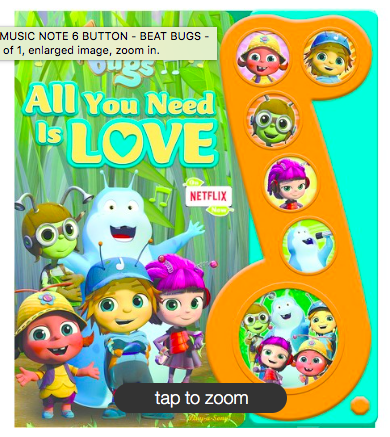 Beat Bugs Little Music Note 6-Button: All You Need Is Love
MSRP: $10.99
Age Grade: 18 months+
Featuring a two-color music note module with character images and six song buttons, this board book is a fantastic way to meet the Beat Bugs! Press the buttons to play songs made famous by the Beatles and sung by the characters from the hit TV show. Songs such as "Help!," "Any Time At All," "All You Need Is Love," and others are bound to get readers moving and dancing, and the rhythm and rhyme of the text help build literacy skills. Colorful book spreads feature printed lyrics, character catchphrases, and full-bleed art.
BE SOCIAL #BeatBugs
Facebook